Sennheiser Freesound RS 6-9 Wireless Headphones
Words and Photos: Marcus
Model: Amanda
Amanda's site is at http://amandaswisten.com/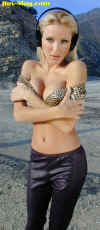 "My girlfriend wants to move in with me. She really hot, but she's addicted to country music. What am I supposed to do?" This is what my friend Joe said to me the other day. My advice in the past would have been, 'Don't move in with her because that music will drive you nuts.' However, now it's the 21st century and Sennheiser has brought out 'the relationship fixer'. At least that's what I would call the Sennheiser freesound RS 6-9 wireless headphones. Whether you have a girlfriend, roommate, kids, or a mother-in-law living with you, one of these devices would be wonderful. (Recotron makes a cheaper set of wireless headphones, and they managed to extend my last relationship two years.) Listen, I like music, but sometimes I need silence to get some work done. Some people like to have the music on all the time, with wireless headphones the noise arguments stops. The noisy person can't say to the quiet person, "But I need the music loud in the living room, so I can hear it in the garage."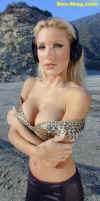 Okay, so it's a good idea to buy cordless headphones. Now read on and find out why you should buy the Sennheiser RS 6-9. First of all, it's important to remember that Sennheiser make the finest audio equipment in the world. Go into any professional radio station and I guarantee you'll find Sennheiser headphones. At least every time I see a radio station on television, it's easy to spot the Sennheiser products. I received a pair of Sennheiser corded headphones HD 540's about five years ago, and I'm still being impressed by their sound quality today. I hear certain sounds in songs only when I use my 540's. So naturally I expects nothing but the best quality from the free sound RS 6-9.
According to the numbers, Sennheiser's reputation for high-quality should remain intact. The frequency response for the RS 6-9 is 20 -- 20,000 Hz which is actually better then your standard Walkman type of headphones. Their maximum sound level is 105 decibels. (Plenty loud enough, unless you're standing next to the Concorde.) They are a 900 MHz unit with the ability to transmit on 913, 914 and 915 MHz. This means that three people in the same house could use these headphones at the same time and listen to different music. The amount of time that you can use the RS 6-9's is quoted as 3 1/2 hours, which corresponds to the nearly four hours that I could get out of them. Near the end of the battery cycle the performance just drops off quickly. That's the great thing about nickel metal hydride batteries. Remember the old NiCad days, where they would work great at first and then die off slowly causing your device's performance to suffer a

long and agonizing death. As you can see from the picture, the battery is extremely

small. Yet another cool feature that Sennheiser brings you it is the ability to recharge two batteries at the same time. One terrific feature that Sennheiser has focused on is there extreme light weight of only 160 grams (or 5.6 oz.). They are light enough, that you can forget that you're wearing them.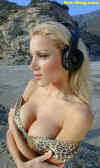 Of course, it's not just because they are light, but they are also ergonomically comfortable to wear for long periods. Sennheiser connected the headphones to the headband with a pivoting plastic universal joint (I was convinced that the connection was a metal of some sort because of the high-quality fluid motion of the pivot.) which allows the headphones to shape to your ears even if you look like Prince Charles. Sennheiser has also managed to put on the perfect foam to rest against your ears. The foam is firm enough to do its job of separating your ear from the headset and yet not so hard that you feel it pressing the high points of your cartilage. This high-quality foam is covered by equally high-quality fabric which although not silk, could be mistaken for it.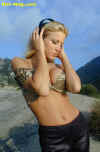 The Sennheiser product designers did a great job in the overall look of the RS 6-9. In profile, the head strap has a nice subtle S form to it. Which simulates the curve of a woman's body. Please notice how Amanda does a terrific job of demonstrating the curve of a woman's body. I also like the tasteful restraint of using simple white on black

lettering (especially the Sennheiser name on the top of the headphones.)
Yeah, yeah so they work great, big deal what about the range?! Right, I almost forgot about that. Sennheiser quotes 100 meters (300 feet) in all directions (well duh) and I would say that is a conservative estimate. The only problem is (and I think it's because of my bad neighborhood) even if you are five feet away from the base station, there is a slight bit of background static that can be heard. The static is more noticeable at lower volume levels and also I did get used to it after some time. I think that when Sennheiser brings out a 2.4 GHz version of the free sound headphones, the static problem will go away completely. But until that happens there is no reason why you shouldn't buy the Sennheiser RS 6-9, they are of extremely high-quality and sound great. They are comfortable to wear, and work for a decent length of time. All of this for the paltry some of $219.95. An extra battery will cost you $18.00. In addition to this, if you're on a budget, you can go to the Sennheiser web site where they sell refurbished units at a substantial discount. These refurbished units also include the standard Sennheiser two-year warranty. Go out and get yours today and save your sanity like Joe did.
Sennheiser's site is at www.sennheiserusa.com
You can get the mail order from the DBL distributing.
They are also available at the Good Guys.